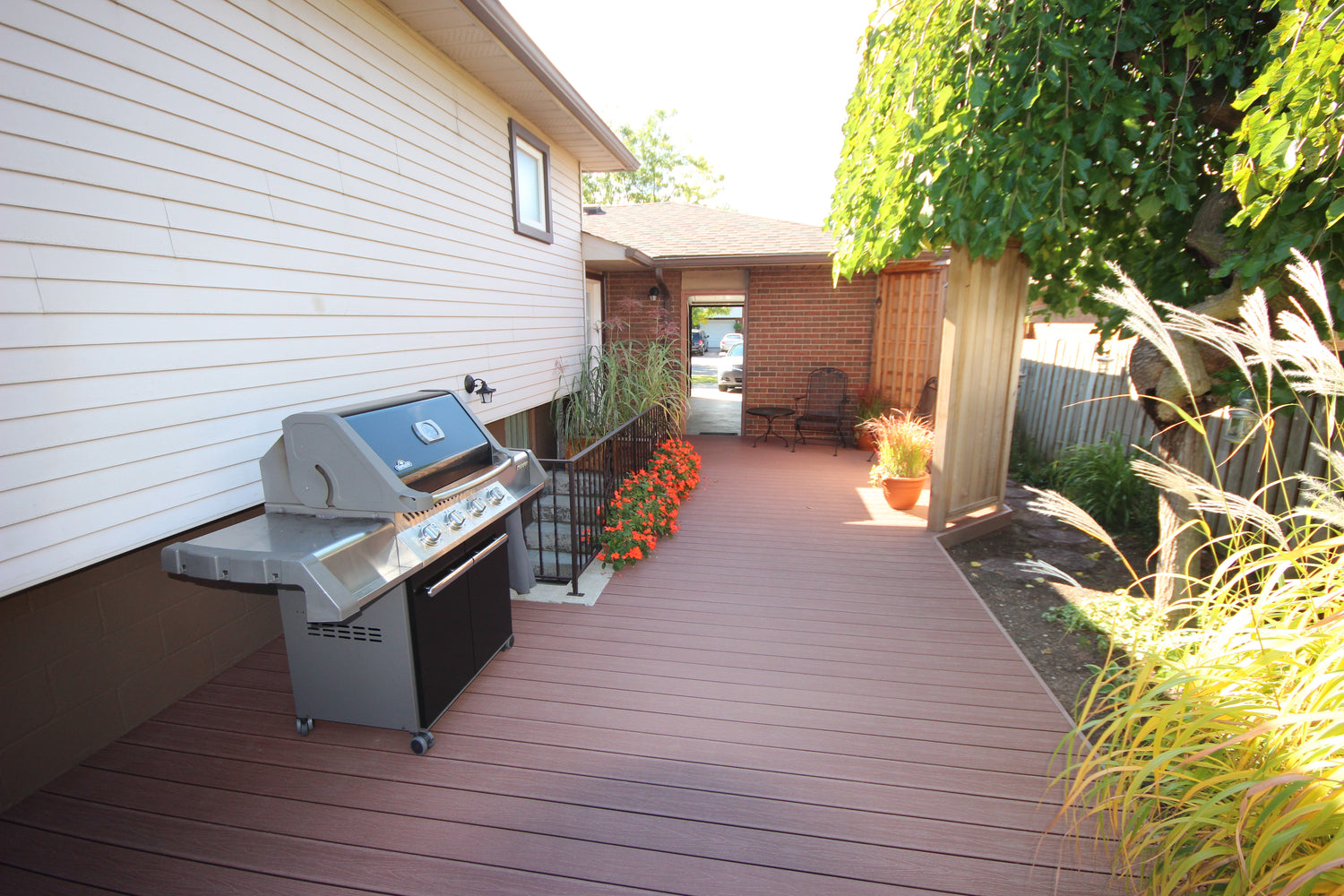 Your composite and PVC decking manufacturer is TruNorth Deck, who is TruNorth Deck?
TruNorth Deck is a brand of wood-free composite decking materials owned and manufactured by TruNorth Composites Inc. They are located in Brantford, ON.
Shop TruNorth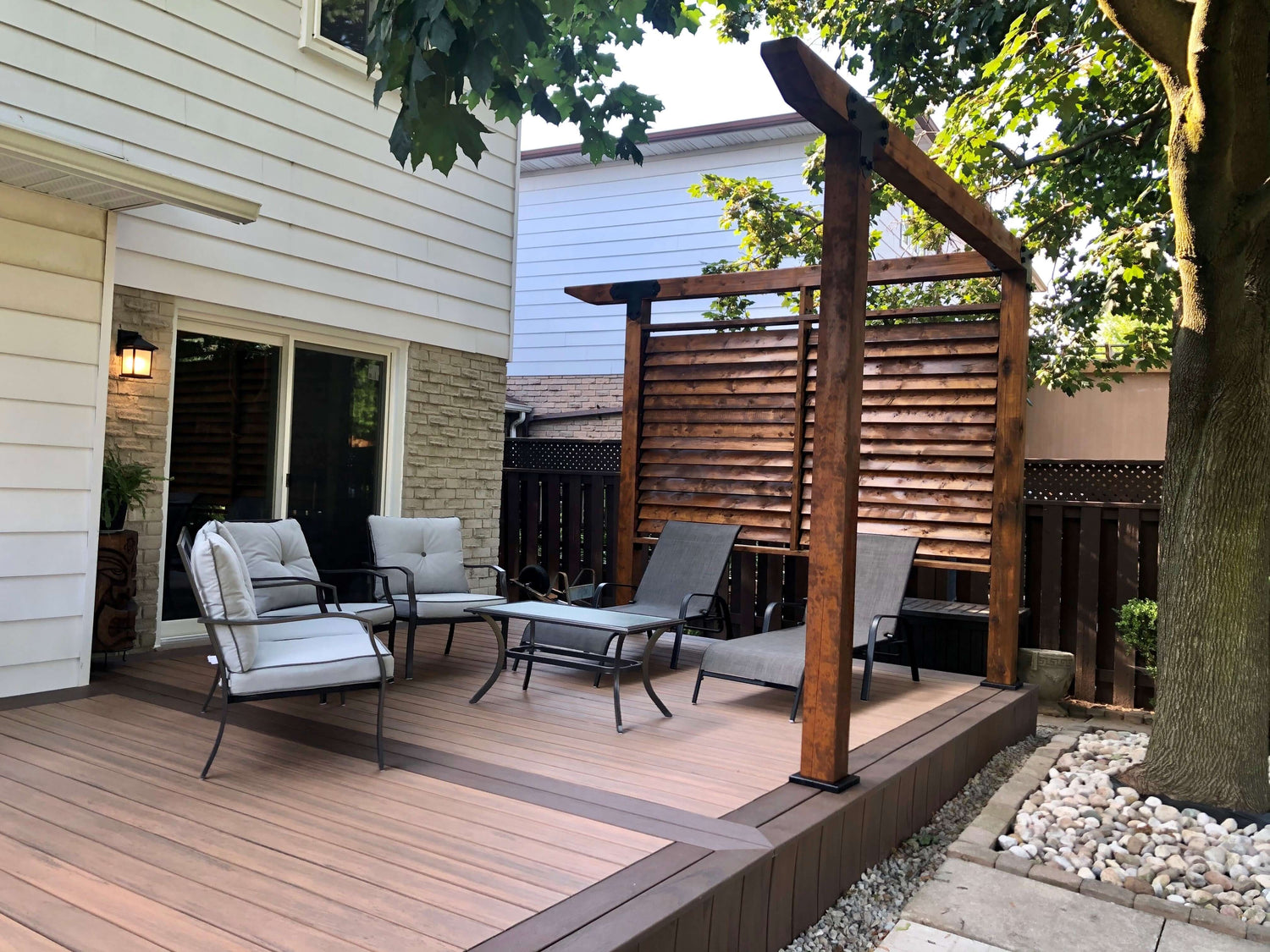 How is their product different from other composite decking available?
• Reversible board with wood grain on both sides
• Heat blocking technology keeps the board cooler than many other composites
• 100% Arkansas rice hulls, no wood saw dust is used
• Rice hulls absorb very little moisture• Looks and cuts like real wood
• Outer shell (capping) on all four sides
• Made from 95% Recycled Material
• Rice hulls will not harbour mold or fungus
• Rice hulls will not burn or decay easily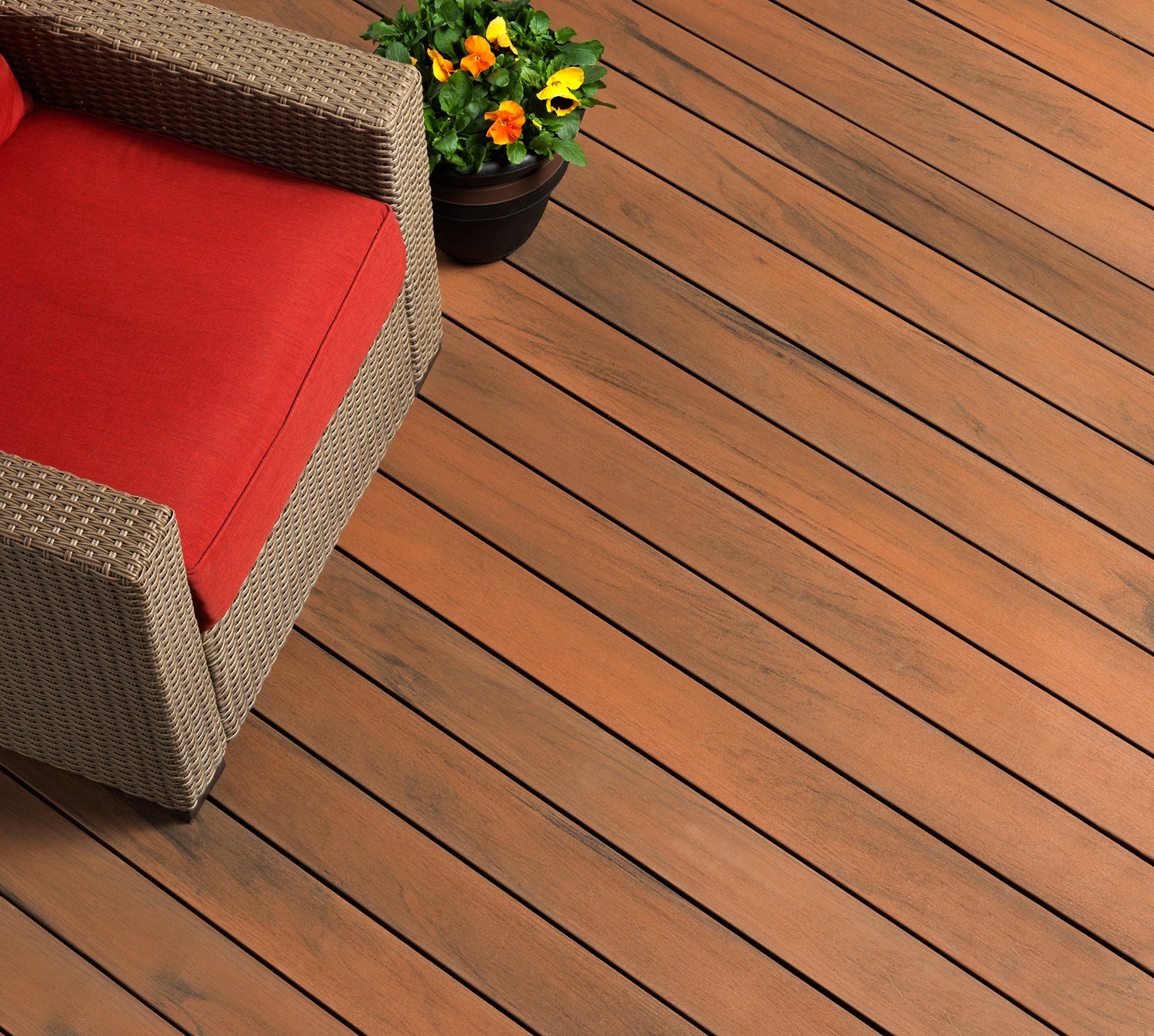 What is the difference between TruNorth Enviroboard, TruNorth Solid Core (Accuspan), and Clubhouse PVC?
TruNorth Enviroboard and Solid Core (Accuspan) are composite deck product lines, and Clubhouse is a PVC deck product line. Enviroboards have holes in the middle to reduce weight and material used, which also reduces cost. These come in 12 colours and are our best value boards.
Solid Core boards are the same as the Enviroboards, except there are no holes in the middle; it is completely solid. The extra material increases sturdiness and is therefore a higher price than the Enviroboards. Both TruNorth products use 95% recycled material and come with a 25-year warranty for fade and stain resistance.
Clubhouse is our premium brand of decking made of PVC polymer that weighs less than composite. These products come in 10 colours that are different than TruNorth's. With the best performance, and a lifetime warranty, Clubhouse is our highest priced product line.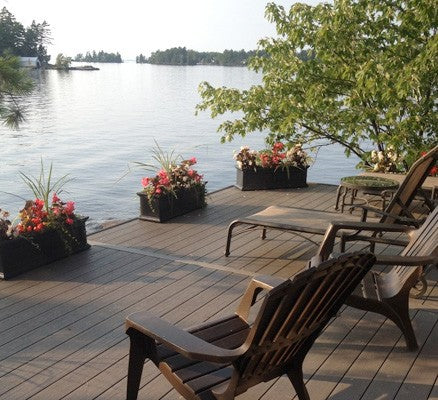 How do the TruNorth Solid Core board and Enviroboard compare to each other and other brands in terms of scratch resistance?
The Solid Core board has the same cap as the Enviroboard, and they both have a similar scratch resistance to most wood composite boards on the market.
Planning a Project?
How do I calculate how much material is required?

To calculate the amount of lineal feet of decking needed, measure the square footage of your deck and multiply that by 2.28. Depending on the complexity of your deck, you may want to add 10% for cut-off waste (Example: 10 feet x 10 feet = 100 square feet x 2.28 = 228 lineal feet). To calculate how many fastening clips required, calculate 2.5 clips per square foot when joists are on 16 inch centers and 5 clips per square foot when joists are on 12 inch centers.
What tools do I need?

You can use the same tools you use on wood products such as a regular carbide blade, table saw, radial arm, hand saw, drill bits, and routers. TruNorth decking and accessories cut and shape just like real wood.
Can my railing post be directly secured through the deck boards?

If installing on a Grooved Edge board using a hidden clip system Eg. Enviroboard or TruNorth Solid Grooved board, the board should be cut around the railing post. This will allow the board to expand and contract naturally.

If installing on a Square Edge board that is utilizing surface fastening, the railing posts can be secured on top of the board without cutting around the rail post. Therefore, we recommend the use of picture frame borders using Square Edge boards when installing railing on your deck.
How close can I put my BBQ or grill to TruNorth Deck boards used for privacy screen or railing?

We recommend you go by the BBQ's instructions since some BBQs are hotter than others and some push more heat out of the back or sides. Typically the BBQ manufacturer will make a recommendation for proximity to vinyl railing or siding, and if you follow that, it should be more than adequate for TruNorth Deck in most scenarios.
Accessories
What is the Slide & Go® System?

TruNorth Deck has a complete decking system. The Slide & Go® system is the use of the hidden fastening clip and stainless screw, allowing your next board to slide into position, ready for the next fastening clip. This decking system allows for expansion and contraction of the composite material. All plastics or composites expand and contract according to weather conditions.

The clips leave a 3/16 inch gap between the boards for air circulation and water drainage.

The clip and screw are black and cover the top of the joist, so they actually help protect the joist (from water/sun) and hide the joist in the shadows.
What square footage does the Slide & Go® System cover on 12 inch and 16 inch centres?

100 square feet on 12 inch centres and 130 square feet on 16 inch centres.
How big are the gaps between the grooved boards when installed with Slide & Go Clips?

The Slide & Go clips leave a 3/16 inch gap in the boards side to side. That is a small gap, so it's hard to see the clips unless you are standing straight above looking down with overhead light (noon).

The Driver tool included with Slide & Go clips is also made to fit between the 3/16 inch gap, so adjustments can be made during construction and in the future.
Can I use Pro Plugs with other brands of screws?

While some other brands of screws may work, using a different brand of screws would void warranty coverage for the plug system.
Can I use the deck Pro Plugs for fascia boards?

No, the fascia boards are not thick enough for this system to work properly long-term. We recommend the DeckFast colour matched fascia screw system which you will find in our composite decking accessories section.
Can the composite and fascia tools be used for the same task?

No, the fascia tool drills and cuts a countersink for the fascia screw. The composite tool is just a depth setter for a composite screw, with no countersink.
Collapsible content
Can I clean TruNorth decking using a power wash?

We recommend power washing in the spring and fall, or as required. Rice hulls are very hard and power washing will not harm the board. Power wash using soap detergent and a hose fan spread of 6 inches or more.
Will the colour of the decking fade?

All colours will fade to some degree. Decking material will have minimal fading and the gloss appearance will disappear.
How do I repair the board if my BBQ fell over?

Most stains will power wash out with detergent soap. Small stubborn stains can be removed using a brass wire brush going with the direction of the grain on the composite decking material.
What about badly stained or accidental BBQ burns?

The boards can be slid out by loosening the clips, sliding the board out, and turning it over as there is a wood grain finish on both sides. Never stain or clear coat the decking material. Paint or clear coat will eventually peel off as it does with wood.
My boards appear to be expanding and contracting at different rates. Why?

Composite boards will expand and contract with changes in temperature. Additionally, if some boards have clips that are overtightened, the boards can be pinned in that spot forcing the expansion and contraction to either end of that point, instead of letting the board expand and contract equally at each end. This can be adjusted by ensuring the clips are not overtightened.If you are still experiencing more expansion/contraction at one end of the board, you can add 2 colour matched screws, or screws + plugs in the middle of the board into the joist, pinning the board in that spot, and allowing equal expansion on either end of the board