Made of marine grade aluminum, our railing system is backed by a 20 year warranty and built to last. Whether you're building a new deck, or renovating your front porch, choose from classic black or crisp white. It's one of the easiest ways you can transform your outdoor space.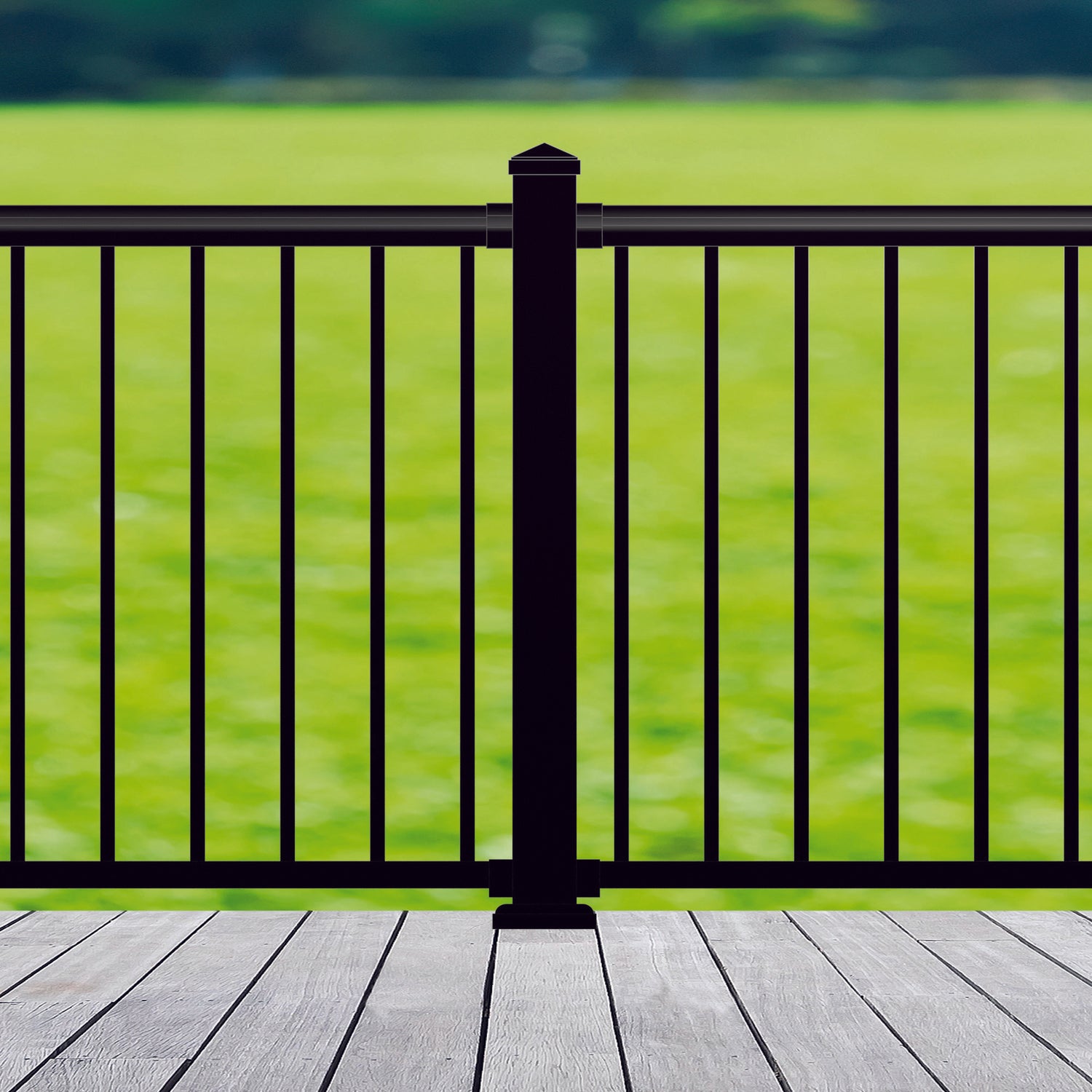 Why Choose An Aluminum Railing From The Composite Deck Company?
From your porch to your deck and everywhere in between, our aluminum railing line instantly upgrades your outdoor space. Not only does it feature a versatile design, but it can be utilized in a wide variety of projects. Powder coated and made of marine grade aluminum, its construction is as durable as its design is stunning.
UV-Protected | prevents fading and discolouring caused by the sun's harsh rays
Rust-Resistant | its durable aluminum construction and powder coated finish prevent peeling and blistering
Weather Protected | designed to last through North America's harshest conditions
Compatible materials include wood, vinyl, composite, metal/aluminum, and concrete/paving stones/bricks
Installation requires minimal product SKUs, which makes your planning and installation processes that much easier.
We offer our aluminum railing line in two equally stunning colours: choose from either classic black or crisp white.
Available in two (2) height and two (2) length options to meet a wide variety of project needs.
Ideal for use in low to high traffic locations
Ideal for contractors and DIYers
Moderate skill set required for installation
Estimated installation time: 30 minutes
Perfect for residential use
Prior to construction, check with your local municipality for building code requirements in your area.
Please Note: before building a permanent structure, it is important to take into consideration where you live and your typical exposure to rain, wind, snow, ice, and sleet as product performance may change accordingly. Wearing personal protective equipment; safety glasses, etc., and using suitable fasteners for your application are equally as important in ensuring your installation goes smoothly and safely.
For certain structures, we recommend consulting a professional to ensure that these products are appropriate for your intended application and that the structural components for which these products are to be used in connection with are sound.
Materials and packaging are fully recyclable
Limited twenty (20) year warranty.
Shop All Aluminum Railings
Additional Information
Railing Installation Guides
Warranty Information
Installation Video